Would you like your wedding rings to tell your own personal love story? And would you like Tine Lindhard's professional assistance in the design- and creation process?
Tine offers guide and support all the way from your very first vision to your custom rings. She answers all questions that may occur during the process and helps you ensure a perfect result that reflects your thoughts and wishes.
Tine invites you back-stage to demonstrate how she'll design and handcraft your personal wedding rings. She'll usually need 3 to 4 months to finish your rings, but depending on her seasonal workload and your schedule, she may also be able to help you sooner – and naturally she'll keep you closely involved all the way through!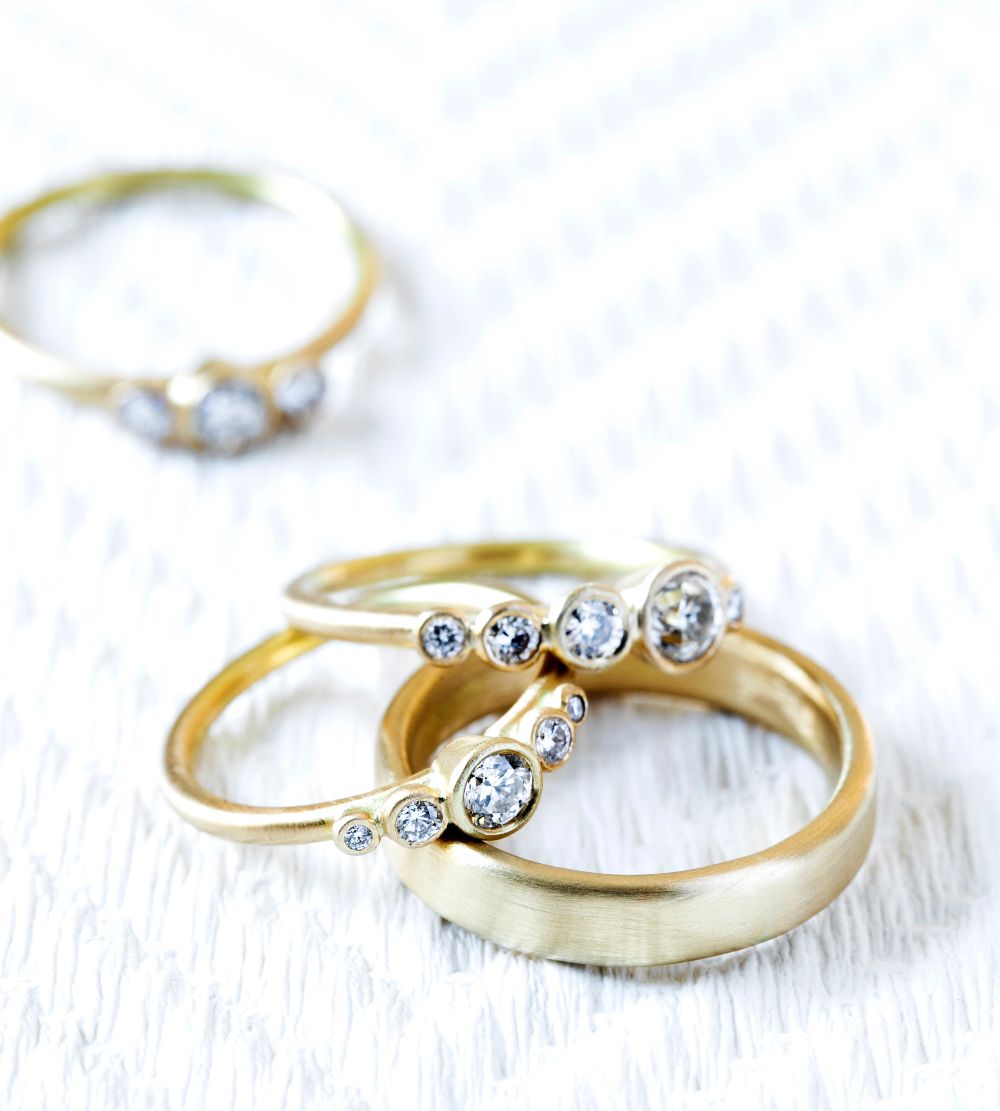 1. First meeting with Tine to conceive your wedding rings
Meet me in my wonderful studio close to Kongens Nytorv in Copenhagen. Let's set a date for our first meeting to explore your options, measure your ring sizes and dive deeper into your wishes and desires. If you have photos or other objects that inspired you, or if you happen to be in the possession of inherited gold or gemstones, please bring all this along to our first meeting.
I'll share with you how I work and take you through the different stages that follow after you provided your first input. Every little detail is carefully handcrafted to convert and integrate your wishes into your personal rings. I mainly work on the basis of models, sketches or pictures of former rings, so I seldom have rings available in my studio. All my rings are unique and customized to meet every single couple's wishes. What I hope to get out of our first meeting is a good understanding of your thoughts and ideas, so that we can jointly envision how you want your personal wedding bands to look like.
2. Non-binding quotation
The concept we discuss at our first meeting enables me to send you a quotation – naturally non-binding. The price I quote depends on your choice of material, gemstones and of course the time I expect to be spending on your rings. Once you have accepted my offer, I'll start preparing your rings without gemstones and engravings.
3. Trying on your wedding rings
One or two months after you accepted my sketch and quotation, I'll invite you to try on your rings, i.e. your rings without gemstones and engravings. By having you try on your wedding rings at this stage, we can ensure that the size, width and metal finish meet your wishes. This is also when we can discuss requested changes, if any.
Sometimes, this is the first time the groom wears a ring, so it is important that you have the opportunity to try on your rings to ensure that they fit and feel comfortable to wear.
4. Finishing the wedding rings
Once you have approved the size and shapes of your wedding rings, I'll carefully finish the last unique details before handing them over to our qualified engraver, who manually adds your personal inscription to your rings.
5. Wedding rings ready
Your wedding rings are now ready – ready for you, for your wedding day and for your future life together.
Our collaboration
I have had the great privilege of designing wedding rings for many couples, each with their own stories and wishes. What all my creations have in common though, is my personal preference for a classic, timeless and matted look. Still, all wedding rings come out differently after I have included your personal touch in the form of family gold, a special diamond or the particular inscription that only the two of you know.
Your wedding ring is a personal piece of jewelry that will decorate your finger every day for the rest of your lives, and for many men this is the only ring they wear. I therefore attach great importance to a mutually good co-operation that enables me to fulfill all your wishes and design the most important piece of jewelry you'll ever be wearing.
CONTACT ME
Whether you wish to book a first meeting or are just curious to get to know the process behind the options I offer, you are always welcome to contact me.
mail@tinelindhard.com / +45 2020 2059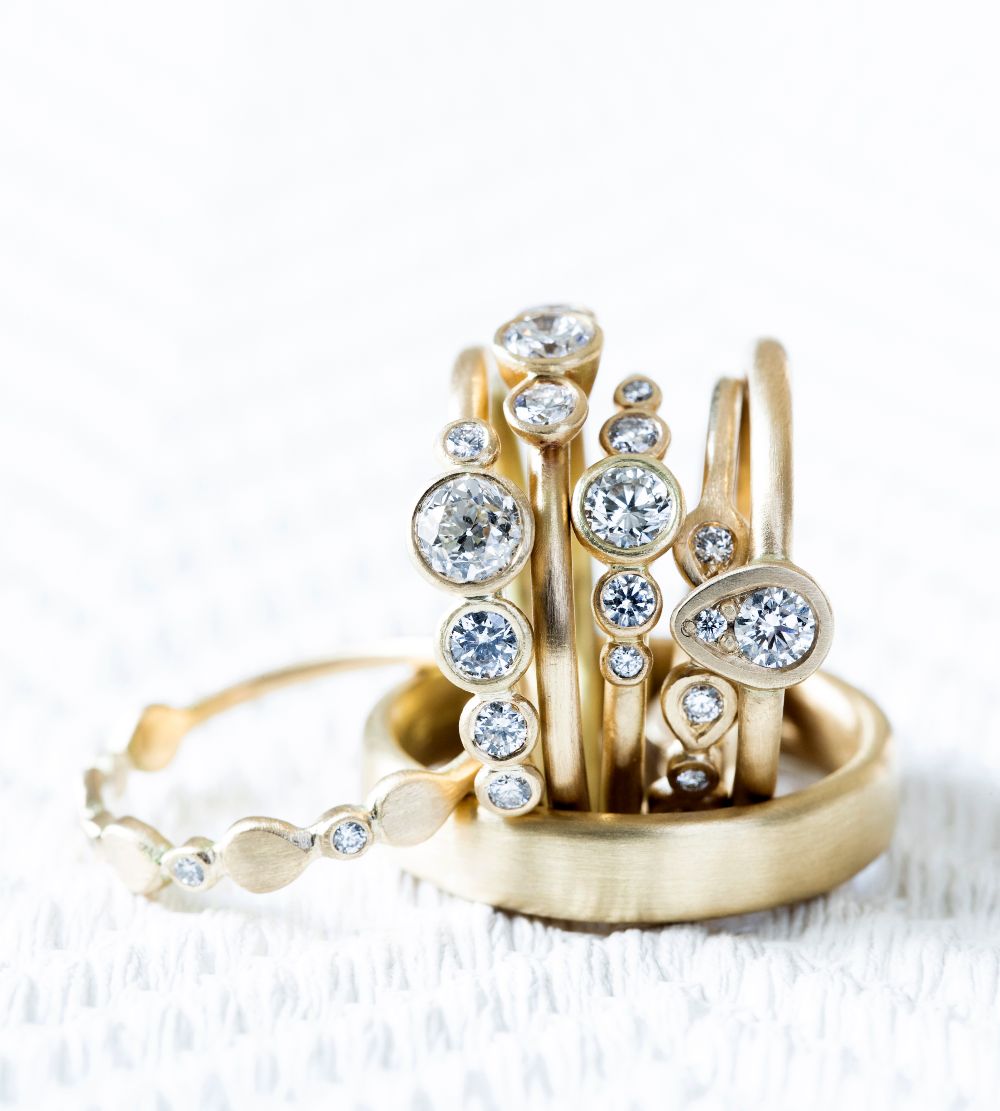 About Tine Lindhard
Tine Lindhard is a Danish jeweller, located in Copenhagen. With more than 15 years of experience, she is a successful designer of custom wedding- and engagement rings and has been acknowledged for her collections of unique handcrafted artworks. Tine takes inspiration from ordinary things like a keyhole, a door hinge or the architecture of an old building. What characterizes Tine's jewelry is a passion for a beautiful, minimalistic and functional design, frequently handcrafted in matted gold gently decorated with diamonds.