11.900,00 kr.
Pomander bloom is the name of the scent pendant, a small pendant witch captures the personal scent chosen by the user
Scent pendant in 18 kt gold 2 pc 0.015 ct tw vvs brilliant cut diamonds & 80 cm chain
Size: 8×13 mm
Share this:
Description
My inspiration for the new pendant Pomander Bloom comes from a blooming flower bud on its way to see the light of the day. The flower bud is surrounded by two protective leaves, which also covers and protects the hidden scent.
Pomander Bloom has the same function as the Pomander pendant, to hold and capture a personal scent chosen by the user.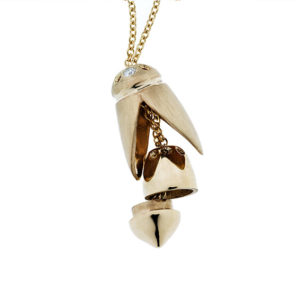 Pomander bloom in gold with 2 0.015 ct tw vvs brilliant cut diamonds