After the wedding ceremony, Camilla and Anders exchanged their unique and beautiful wedding rings. Their rings were handcrafted and designed in co-operation with jeweller Tine Lindhard, and they knew from the start that they wanted to leave their personal fingerprint on the design.
We hope to be wearing these rings for the rest of our lives, and we were both sure that we wanted to take part in the design process to make them special and personal. And Tine was an immense help in realizing what we dreamt of, they say.
They both had an idea of what was important to them – they wanted spectacular rings that integrated their inherited family gold and expressed their individual styles. Tine helped them make that idea come true.
Tine's gifts as an artist are amazing. She offers the most beautiful and delicate designs, so it's no wonder that we've asked her assistance for a third time now to have her handcraft rings that fulfill our wishes for a unique design, says Camilla.
Custom wedding rings with family gold
Wanting to celebrate their 80-person wedding banquet in a manor house with historic charm and natural beauty, Camilla and Anders needed to look into their budget and minimize costs wherever possible. With creative do-it-yourself invitations, home-made table decorations and other decors, they managed to make room in their budget for the unique and personal rings they desired. And already prior to their wedding, the symbol of their mutual love had a special place in their hearts.
They brought along family gold inherited after Camilla's mother, whom they lost five years ago and they also brought treasures inherited from Ander's grandmother, who passed away last year. Tine's remarkable ability to remake inherited gold into wedding rings was the reason they decided to let her design their wedding rings.
We cannot think of a more beautiful way to join our families than to alchemically melt together our inherited gold for our wedding rings. It makes us feel like our loved ones we lost are part of our wedding even if they can't attend. Once we got the idea of integrating our family gold into our rings, we couldn't think of anything else. Now our rings are precious to us before we even wear them as husband and wife, they say.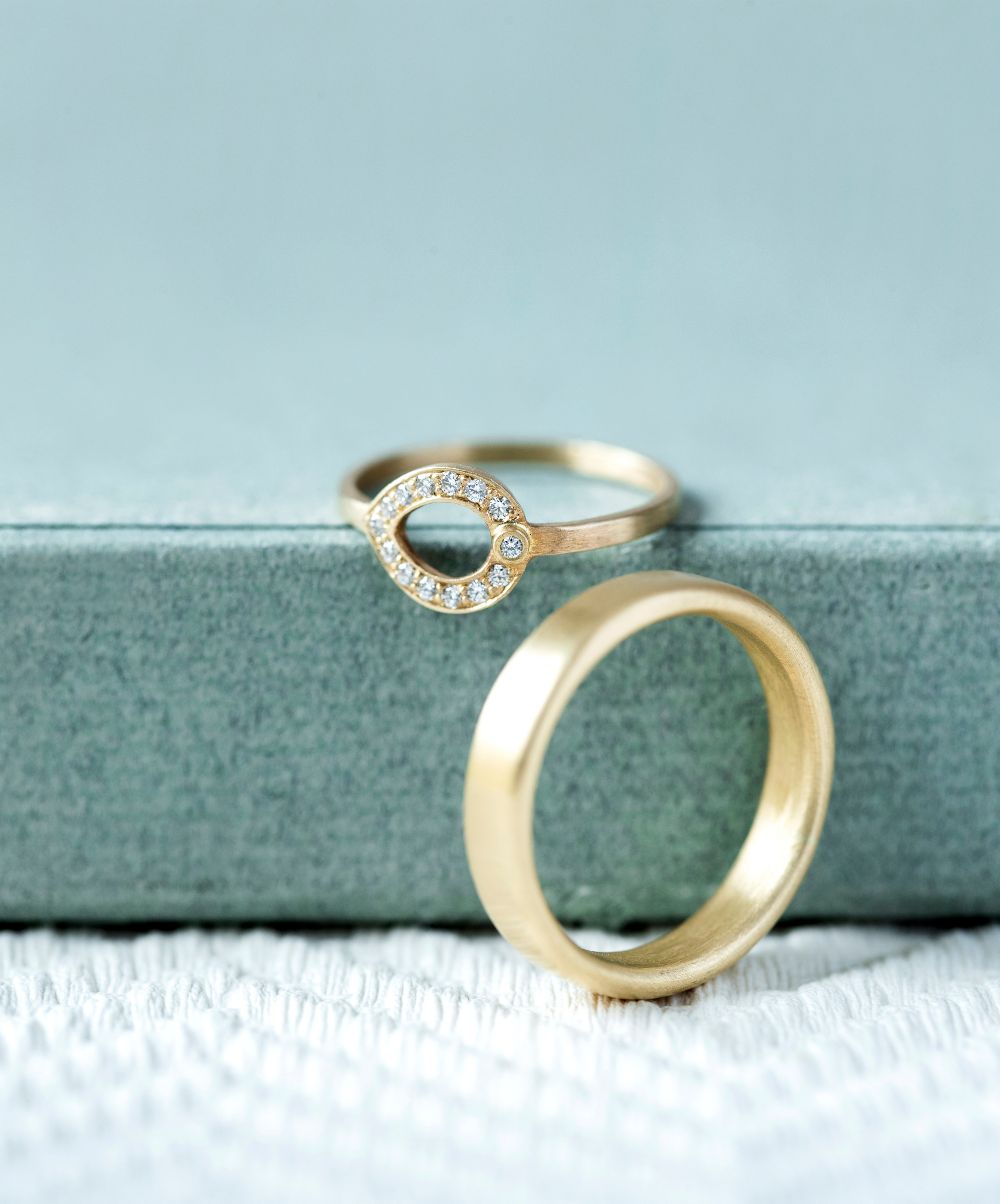 Untraditional wedding rings
Camilla and Anders were not afraid to depart from traditions, so they had multiple opportunities to choose the design and the style of their wedding rings. Tine had previously designed Camilla's engagement ring in co-operation with Anders and the joint starting point was that Camilla's new wedding ring should match her engagement ring and have a female and elegant expression that also included their joint wishes for a spectacular and eye-catching ring.
For Anders with his slim fingers it was important that his ring was not too solid and bombastic but rather suited his personal nature in general. He wanted his ring to convey a certain roughness to keep it from looking too feminine while still matching Camilla's ring. Camilla chose a drop-shaped ring with diamonds, while Anders went for a more classic wedding ring.
It is important to us that our rings aren't identical. What makes them our personal wedding rings is that they came as a pair with personal engravings. And being handcrafted in the same type of gold, the depth of gold makes them look alike despite their different designs, says Anders.
Working together with Tine
Camilla and Anders previously required Tine's assistance in designing Camilla's engagement ring, and were therefore sure that Tine was the one they wanted to help them design their wedding rings.
We have previously used Tine's extraordinary qualities as a jeweller and consider her one of the best designers of custom rings. On top of that, she is a very kind and empathic person, who carefully takes in your wishes to provide the results, you dreamt of. Truly, we can recommend Tine as the best choice of jeweler to help other couples design the wedding rings of their dreams, says Camilla.
CONTACT ME
Your wedding ring is a personal piece of jewellery that will decorate your fingers every day for the rest of your lives, and designing your rings often involves a lot of feelings and emotions.
I consider it a great privilege to help you design your rings to fulfil your dreams and wishes, and that is why I attach great importance to a good co-operation with both of you.
Would you like to know more about the options I offer, or are you just curious to get to know the process behind my work, you are always welcome to contact me at:
mail@tinelindhard.com / +45 2020 2059