Are you planning your dream wedding and looking for customized and unique wedding rings? Tine Lindhard answers your most essential questions about wedding rings.
The wedding ceremony is a beautiful and truly emotional part of any wedding when you exchange rings as a symbol of mutual love and the bond of marriage.
As the wedding ring will be decorating your finger for the rest of your lives, it is not just another piece of jewelry. It is a very special object that many couples want to tell their personal love story and express their feelings. But where to begin when designing one of the most important pieces of jewelry, you'll ever be wearing?
In the following, I have summarized some frequently asked questions from people planning their dream weddings who wanted their rings to match their wishes and their life together as spouses.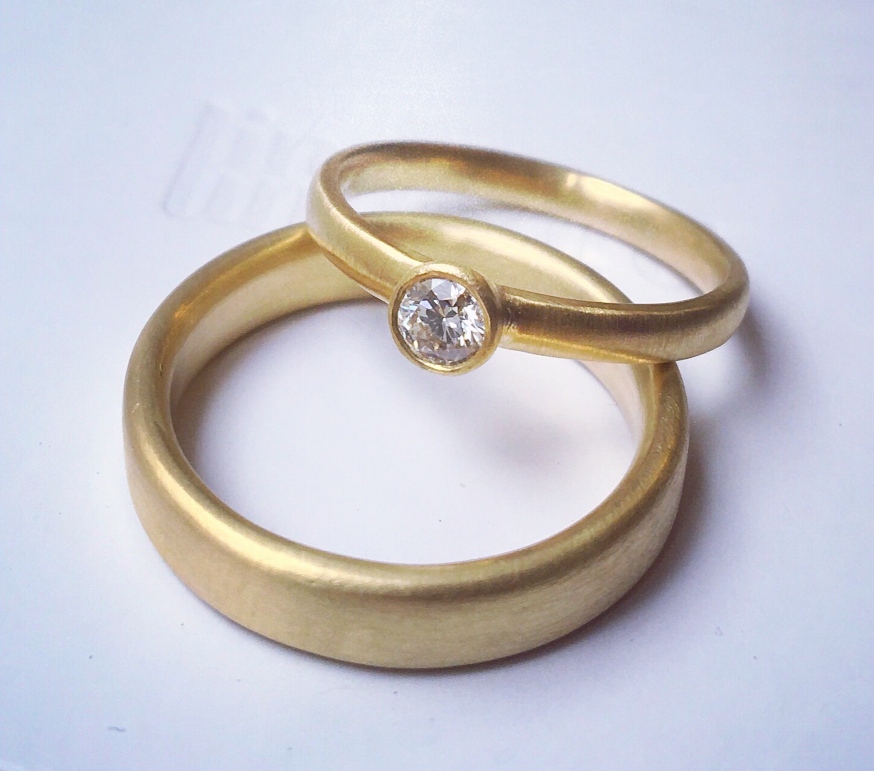 On which finger does a wedding ring go?
As tradition differs from one country to another, there is no definitive answer to this question. My general advice is to consider your own cultural background and personal preferences when choosing your wedding ring finger, be it on your left or your right hand. If you wear your wedding ring on the fourth finger of the right hand, known as the 'ring finger', you'll be following traditions in Denmark, whereas wedding rings are often worn on the left-hand ring finger in the United States and the United Kingdom.
Danes typically wear their wedding ring on their right-hand ring finger, but they put the engagement ring on their left-hand ring finger. After the ceremony, some women choose to wear both rings on one and the same finger. This often stacks a beautiful combination, so to ensure the optimum match between the rings, this preference is definitely worth taking into consideration when designing the woman's wedding ring.
Would non-matching wedding rings be an option?
Nobody ever said that wedding rings need to be identical. Although traditionally matching – at least in style – many couples take non-traditional routes and choose different wedding rings to allow each of them to each express their personal preferences while still telling a joint love story.
What matters is that both of you love the wedding rings you'll be wearing for a lifetime and that they match your individual styles. Fortunately, there are many ways to fulfill wishes for complementary rings:
You can choose identical ring profiles and vary the width to make the male ring wider than the traditionally thinner and slimmer female ring
You can use identical ring profiles and width for both rings and decorate the female ring with gemstones to obtain a more feminine expression
If what you want is to wear your wedding rings as a symbol of your mutual love and devotion, you may very well choose even very different rings and just match them with the engraving of your own personal inscription. So, though a symbol of your mutual love, your rings may very well be quite different – just like the two of you are as human beings. And there are many ways to match and pair your rings in the form of engraving, surface, gemstones etc. So if you have different wishes from your wedding rings, don't worry – that's only natural.
Which metal to choose for our wedding rings?
I only work in gold when designing wedding rings and offer ordinary yellow gold as well as white gold.
Yellow gold is a compound of pure 24 karat gold and additives like copper and silver. Yellow gold is both an elegant and a classic choice, and the color of the gold is all up to your preferences as a couple.
If you prefer yellow gold, you have the choice between 14 and 18 karat gold. 14 karat gold has a lighter gold color, whereas 18 karat gold has a warmer and more saturated look.
My personal preference is 18 karat gold, not only because of its glow but also because the extra gold adds durability.
If, however, your personal preference should be 14 karat gold, I can naturally meet your wishes.
Being a relatively soft metal, pure 24 karat gold is hardly ever used for functional jewelry because it is less wear-resistant to scratches and is easily deformed.
White gold is an alloy or a compound of pure gold and white metals (palladium and silver) which makes it hard and more durable. White gold is often the preferred choice and provides an extremely beautiful base for white diamonds.
Which style to choose for our wedding rings?
It is important that you choose a style that feels right for the two of you and matches your personalities and lifestyles. Do you want a classic or a spectacular ring? Do you want your rings to match your engagement rings or other pieces of jewelry that you already wear?
Typically, wedding rings come in three different styles:
The classic ring with a matted or polished surface, conveying a minimalistic and timeless expression
The gemstone decorated ring, which provides endless opportunities to finish and personalize your ring with inherited
The delicately patterned ring with a twisted, beveled or chained edge that gives your ring a personal touch gemstones or family gold
Of course, we can also combine all three styles and create numerous other options. When we design your wedding rings, I'll be guiding you all the way to ensure that we end up with a comfortable fit and the wedding rings of your dreams.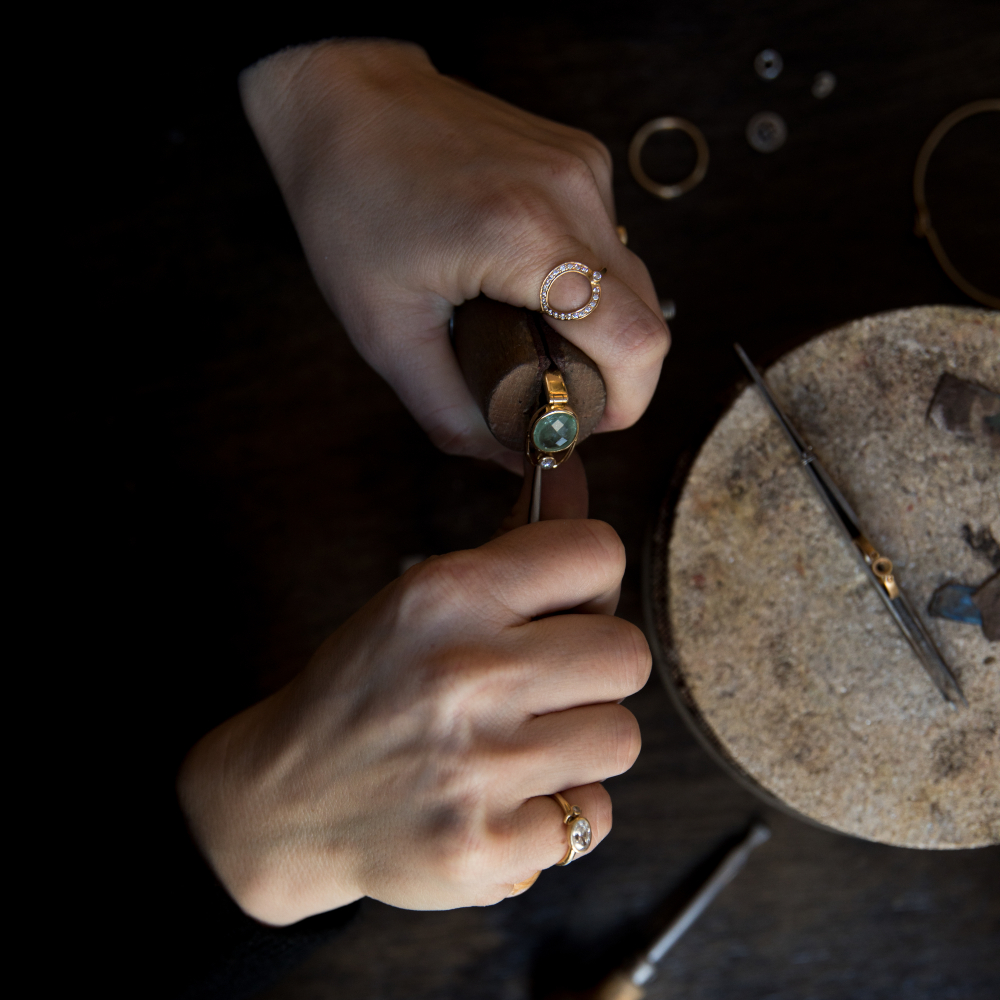 Could we integrate inherited gold and gemstones in our wedding rings?
I have many customers who want to integrate family gold or gemstones. It is a beautiful and touching idea to integrate family jewelry and history into rings that symbolize your mutual love and life together.
I always carefully examine my customers' inherited jewelry to decide whether it can be integrated in their wedding rings.
I most frequently work in 18 karat gold, but if your family gold is 14 karat, it can be upgraded by adding more pure gold. If you do not wish to do so, 14 karat wedding rings are obviously also an option. It's all up to you and your preferences.
Our collaboration
All my jewelry is carefully handmade from the first sketch to the finished product, and I take great pride in high-quality craftsmanship. I have had the privilege of designing many engagement- and wedding rings and feel honored to join my customers in designing and realizing their dreams. I highly value a good cooperation between us, because this is what allows me to create the rings of your dreams.
After our first meeting, when we have jointly shared your wishes and ideas, I'll work out a sketch of your basic wedding rings and include a description of the manual working process that follows. I mainly work on the basis of models, sketches or pictures of former rings, so I seldom have rings available in my studio. All my rings are unique and customized to meet every single couple's wishes.
CONTACT ME
Interested in learning more about what options I offer in designing custom wedding rings, or just interested in the process, please feel free to contact me for an unformal conversation at:
mail@tinelindhard.com / +45 2020 2059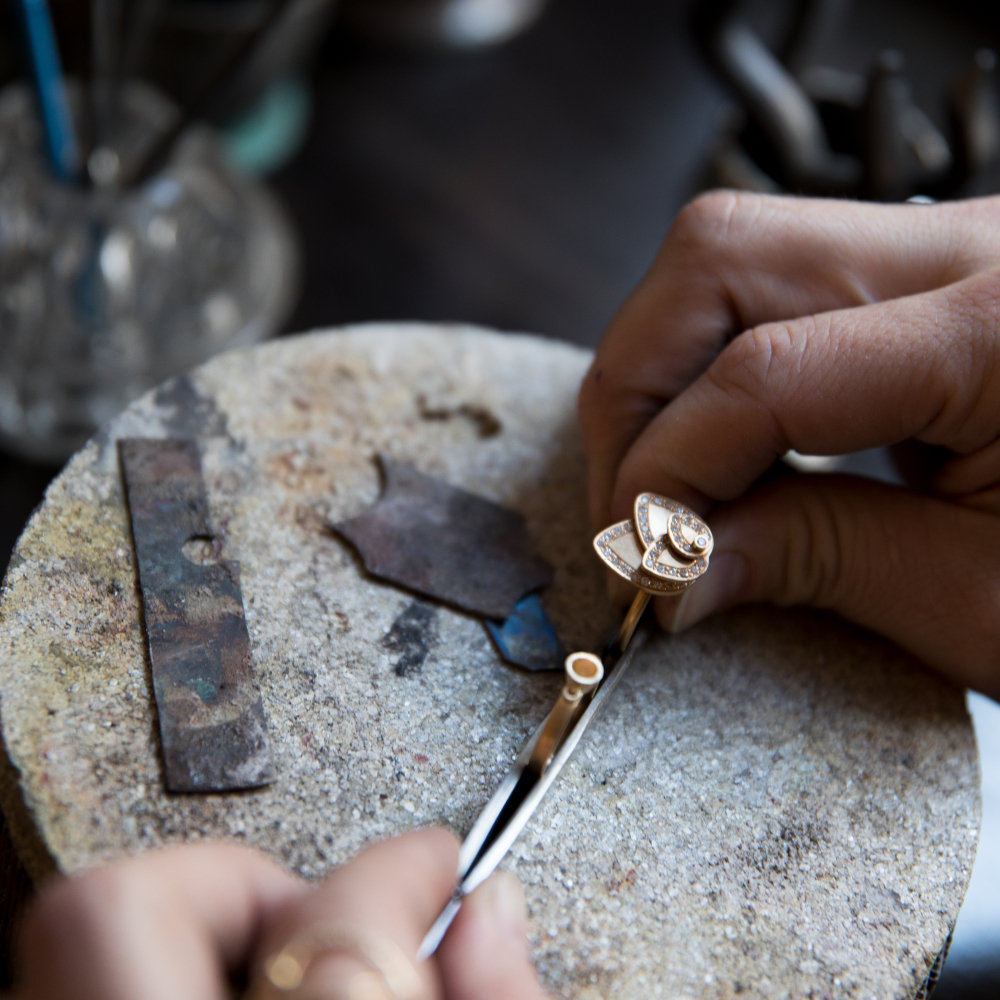 About Tine Lindhard
I am a Danish jeweler located in Copenhagen. I have more than 15 years of experience in designing custom wedding- and engagement rings, and I am proud to have been acknowledged for my collections of unique handcrafted artworks. I take inspiration from ordinary things like a keyhole, a door hinge or the architecture of an old building. What characterizes my jewelry is a passion for a beautiful, minimalistic and functional design, frequently handcrafted in matte gold gently decorated with diamonds.